New England Horse Labs now offers two types of equine fecal parasite testing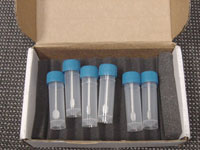 Due to multiple requests from our clients, New England Horse Labs now offers both qualitative and quantitative reporting for fecal parasitic egg burden. In our experience, the qualitative (modified Wisconsin) analysis is more precise for finding and identifying eggs in low-burdened animals, thus, reducing the number of false-negatives while the quantitative (McMaster's) analysis is valuable for establishing a baseline and for monitoring any patient on a de-worming program.

Qualitative reports will identify any parasite found within the sample and estimate the density as: "light", "moderate" or "heavy".
Quantitative reports will identify any parasite found within the sample and give you actual counts: "120 Stronglye eggs per gram"
Free, postage-paid mailers: Please call (800.392.5587) or email us to request free, self-addressed, postage-paid envelopes to send us your horse's samples at no cost to you. Each mailer comes with a request form, instructions and a specimen baggie. Be sure to indicate how many mailers you need and your mailing address if your request is by email. Each envelope can hold specimens from several horses. If you are sending multiple samples, request just a postage free label from us and use your own envelope or box.
Since each method utilizes different amounts of supplies and labor, please refer to our price list. 
Also, please notice that our customers who send us their Coggin's (EIA) testing enjoy discounted pricing on the fecals they send to us.

What We Offer:
Daily Specimen pick-up*
Pre-Paid, pre-labeled, UPS 
shipping boxes
Specimen drop-off box
On-line results available
minutes after the test is 
completed
Batch results Faxed daily
Certificates mailed daily
Testing while you wait (please call ahead of time)
We file the state copy for you
*Specimen pick-up offered in certain areas and/or seasons. Contact us for more information.
News: